In the past, anyone who wanted to sell electrical or electronic devices on Amazon could do so without specifying a brand. In the meantime, however, it is compulsory to have a brand name on Amazon for all devices that fall under the Electrical and Electronic Equipment Act, because a brand name is a prerequisite for the assignment of a WEEE number by the German EAR Foundation. Anyone who does not have a brand or only offers devices from big brands such as Apple, Lenovo, HP, etc. on Amazon cannot offer computers, laptops, tablets, smartphones, cables, adapters, lamps, screens, other accessories or even a Winkekatze with a built-in electric motor for sale since the summer of 2023.
The registration of a trademark at the German Patent and Trade Mark Office (DPMA) in Munich, which is necessary for Amazon sales, costs 290 euros. The initial registration and one of seven possible, obligatory insurances with the EAR foundation costs 819.90 euros. Together, this makes a minimum outlay of 1.109.90 euros, if everything goes smoothly and the DPMA waves through the trade mark application without any queries. Further costs are added annually. If further categories are to be covered by insurance, it becomes really expensive.
Not every small trader wants to dig that deep into his pocket. Alternatively, you can become a licensee of the AURUM brand for 50 euros per year (PLEASE CLICK HERE). With the gross 50 Euro per year all brand costs are paid, including the expenses for the WEEE number.
The further steps at Amazon look like this:
On 22 June 2023, China Express Logistic CEL UG (haftungsbeschränkt), which is registered in the commercial register in Berlin, opened a merchant account with Amazon. On 23 June, a Friday, the company was already able to operate under the Amazon seller name "AURUM Licensee" and was able to create its first product in the Amazon "seller central":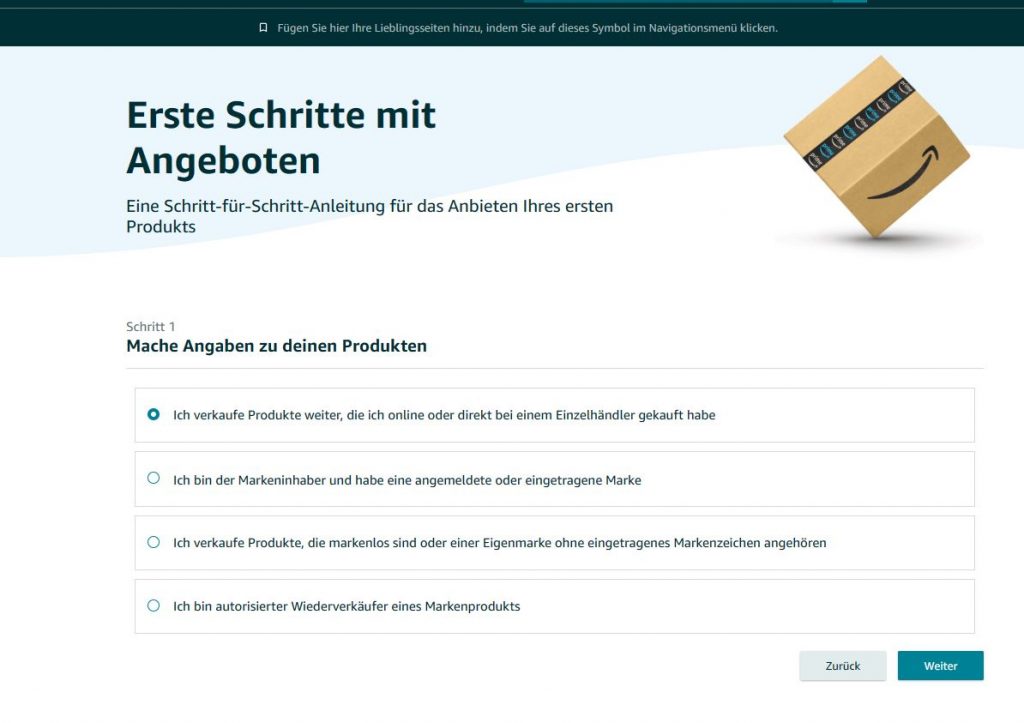 After clicking on "Continue", you will be asked to enter your own company details, your name and your e-mail address and, below this, the AURUM brand and the brand number: 3020232213407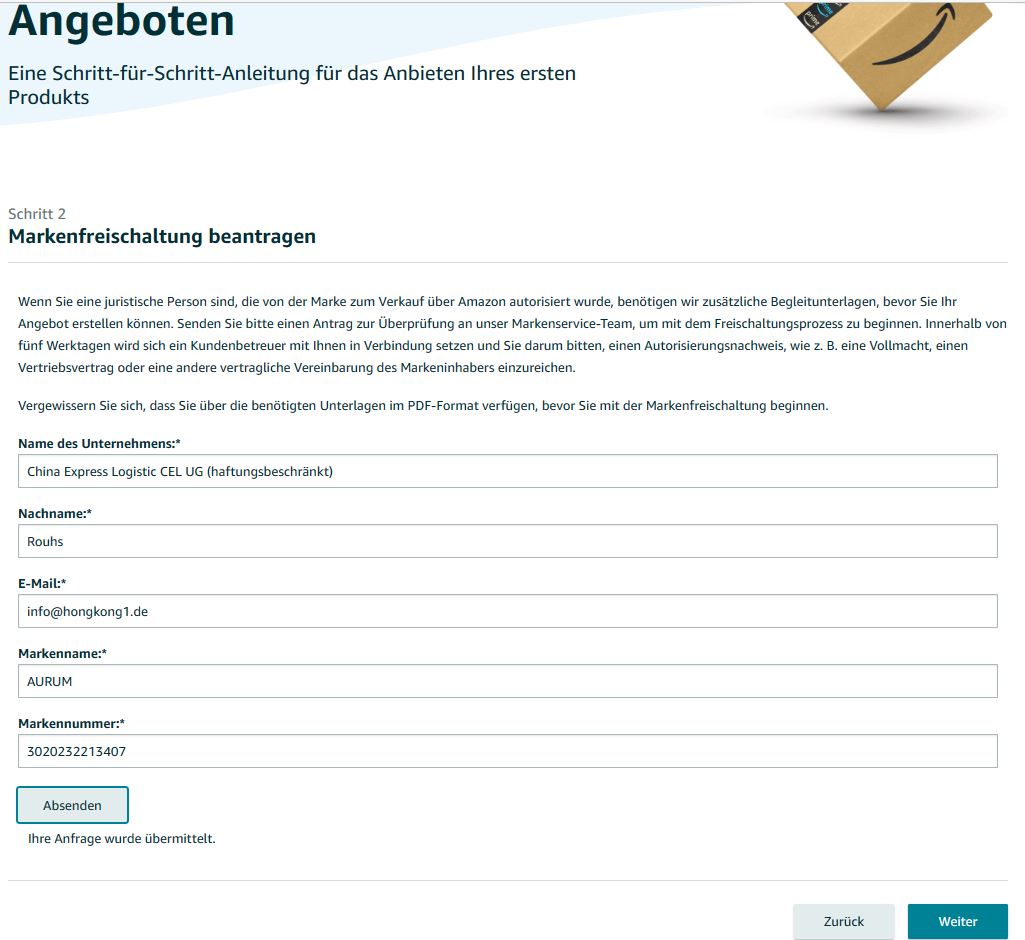 Then it continues with "Create new offer":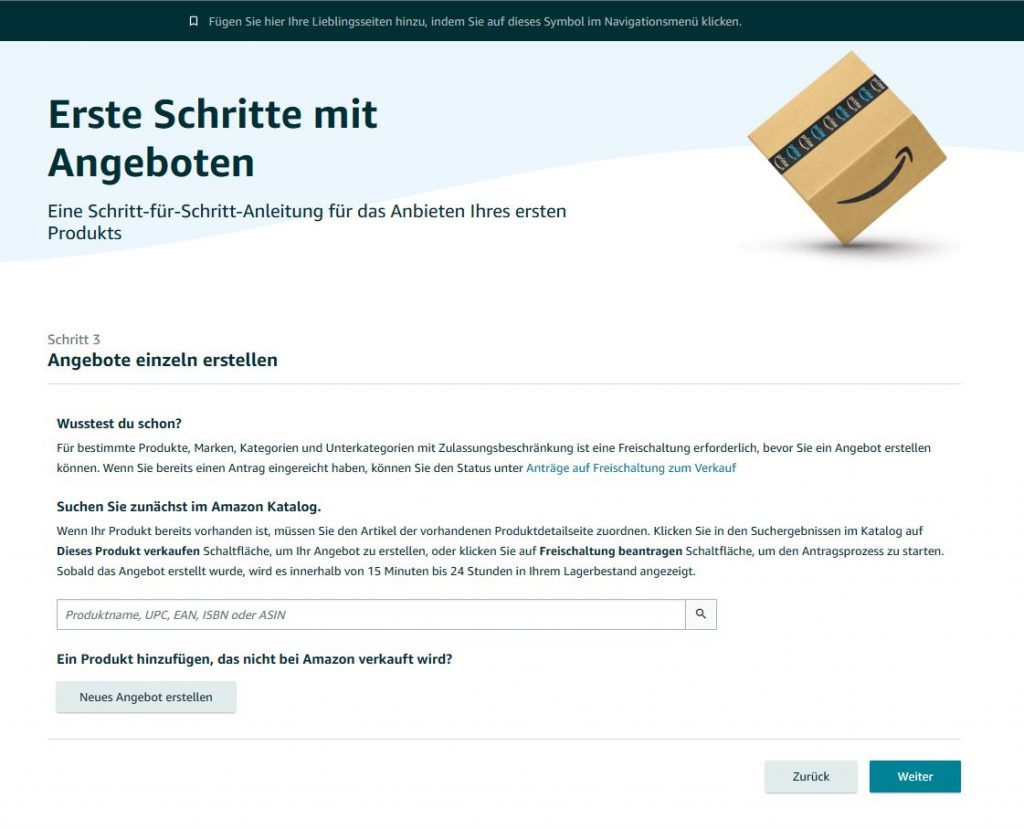 Here you select the product type and category: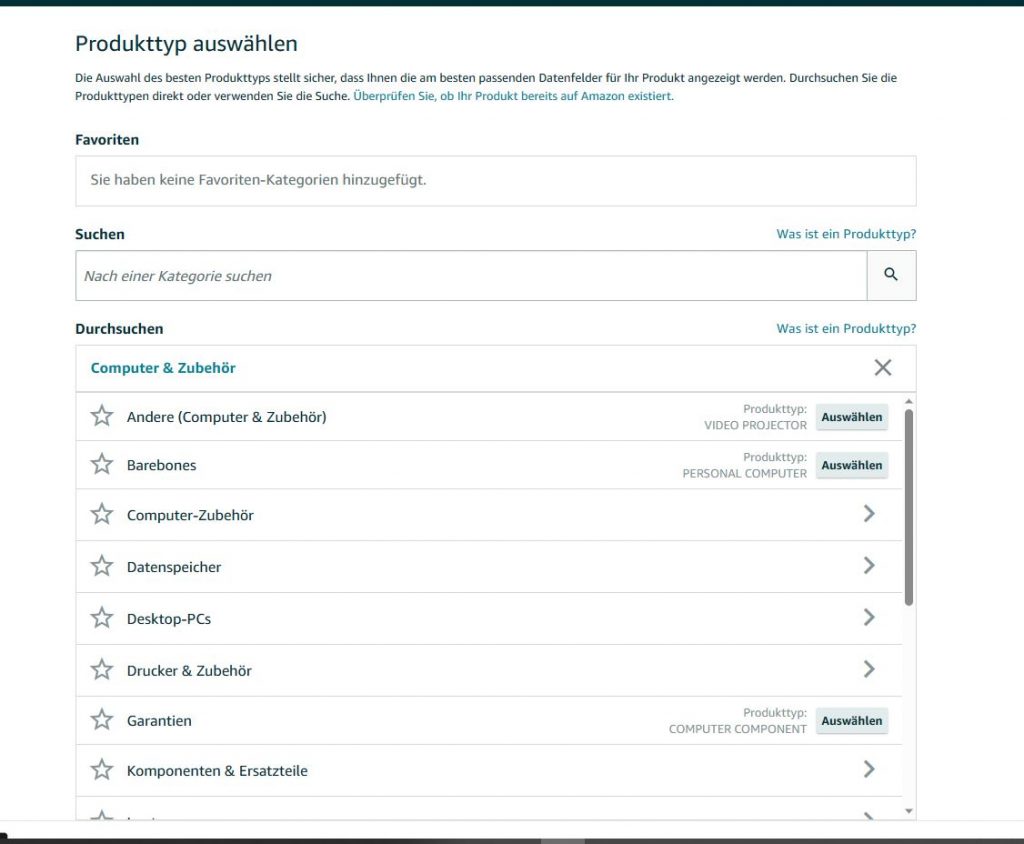 Then enter your article description, the brand name AURUM and a unique EAN number that can be assigned to the AURUM brand. AURUM EAN numbers, which are exclusively yours and available for your products, can be ordered for only 20 cents per year HERE.

After clicking on "Continue", error 5461 appears, because Amazon has not yet recognised your authorisation to create products under the AURUM brand yourself:
Here you click on the link "submit an appropriate application by clicking on this link and filling in the form". Now you will be questioned comprehensively: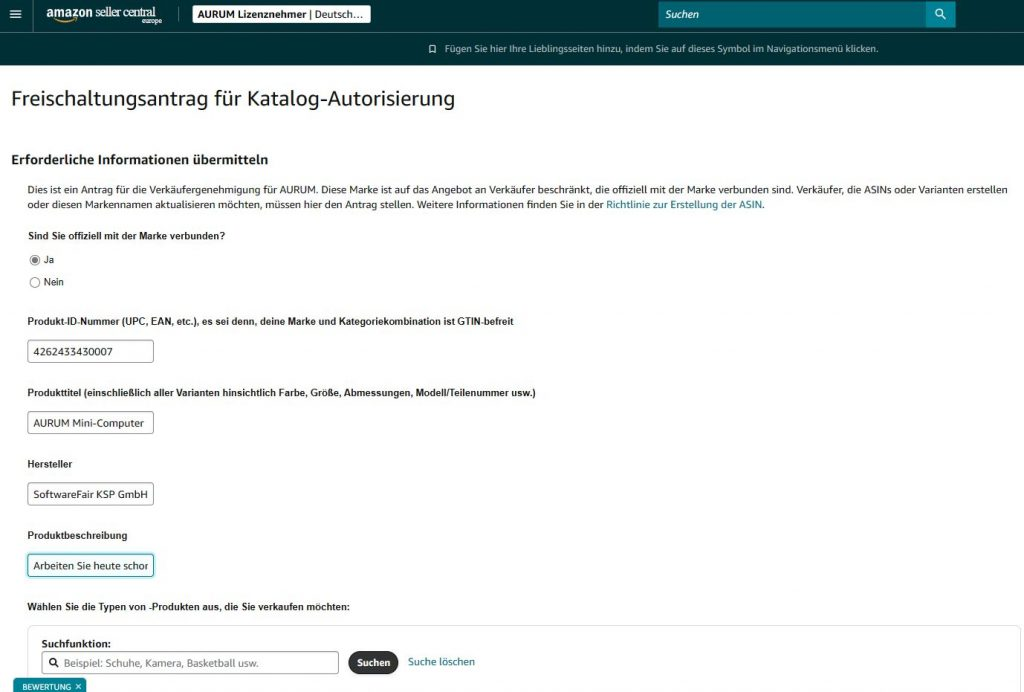 When asked if you are officially associated with the brand, answer "Yes". The EAN number and the product title are still the same as before. The manufacturer is the company: SoftwareFair KSP GmbH. Continue with the category selection in the form text: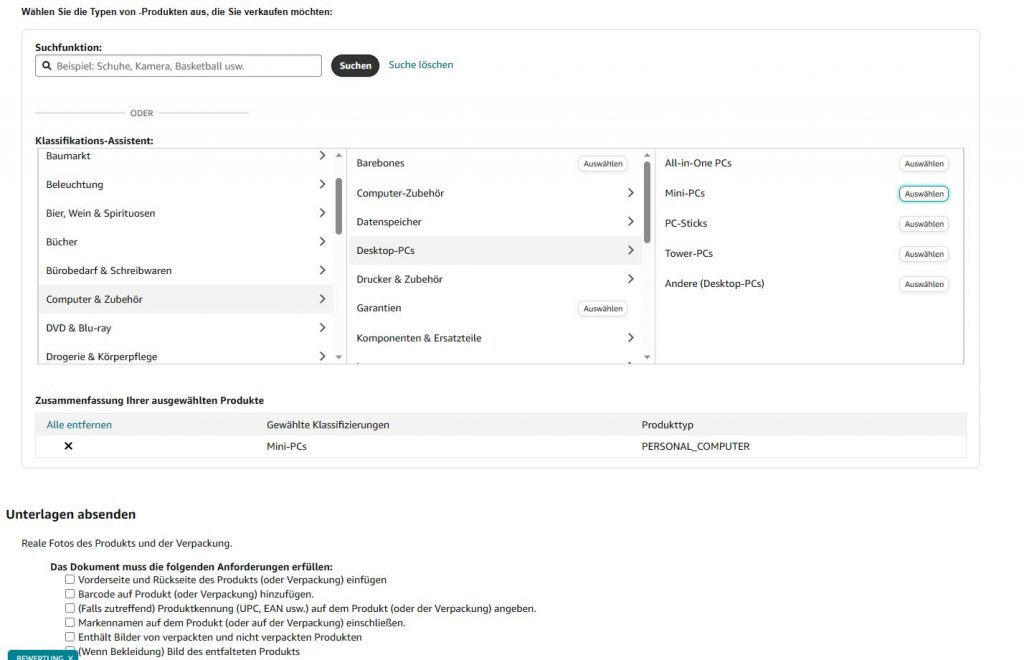 This is followed by "Real photos of the product and packaging", where you put a tick in front of each box and several photos of the product from the front and back, with and without packaging, with EAN number and the designation AURUM.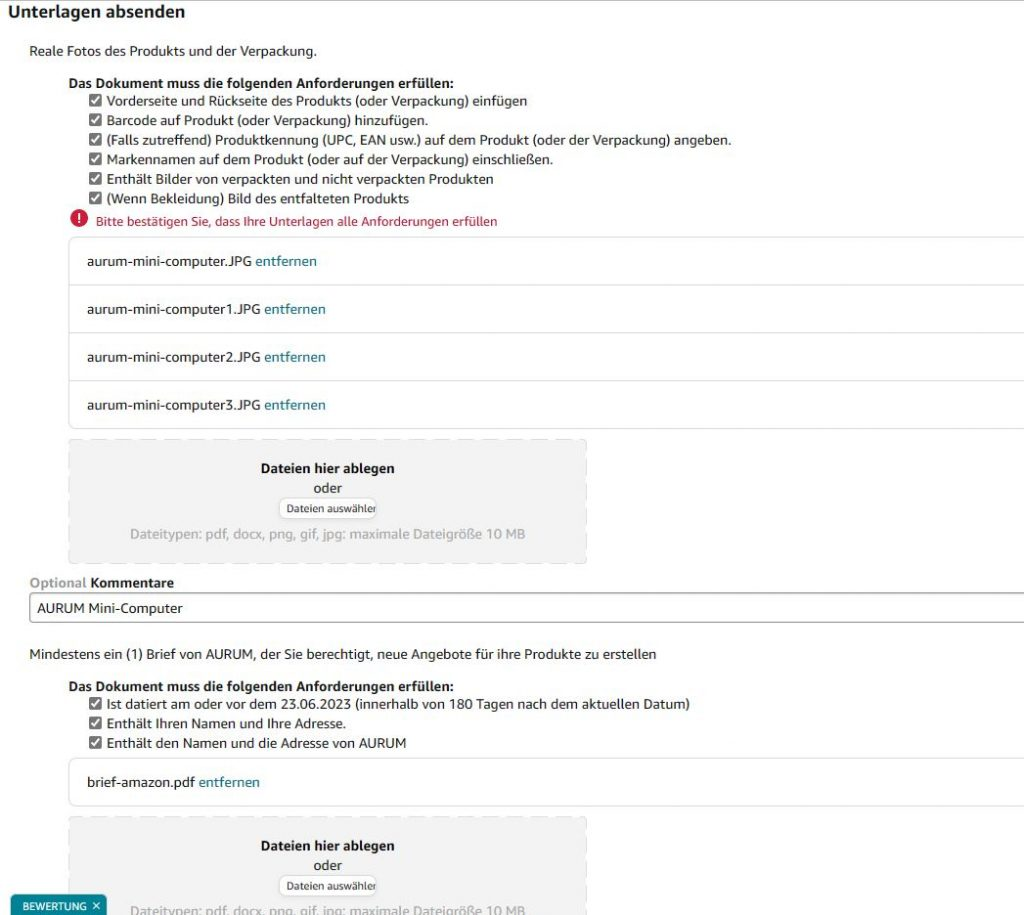 China Express Logistic CEL UG was successful with these four photos.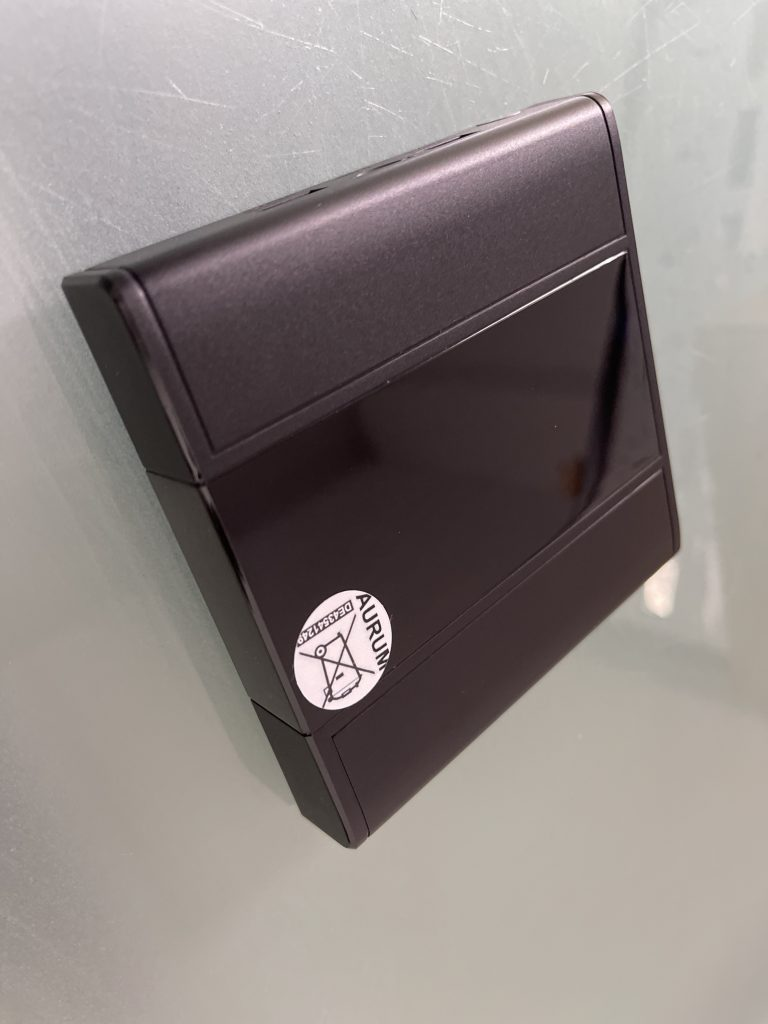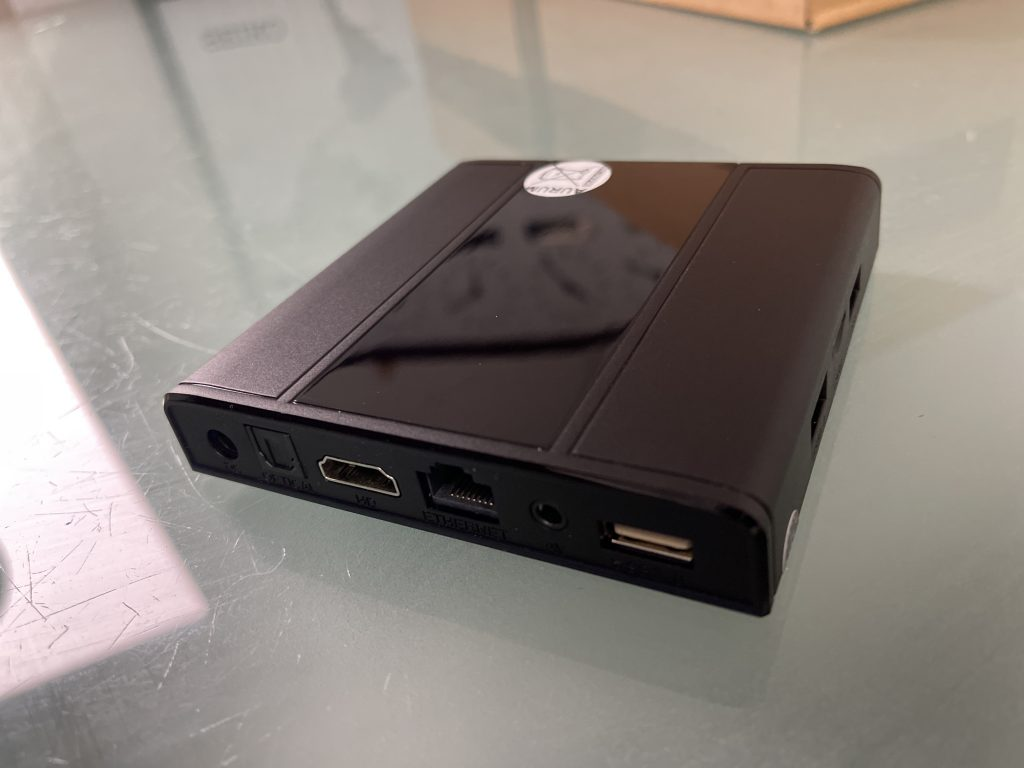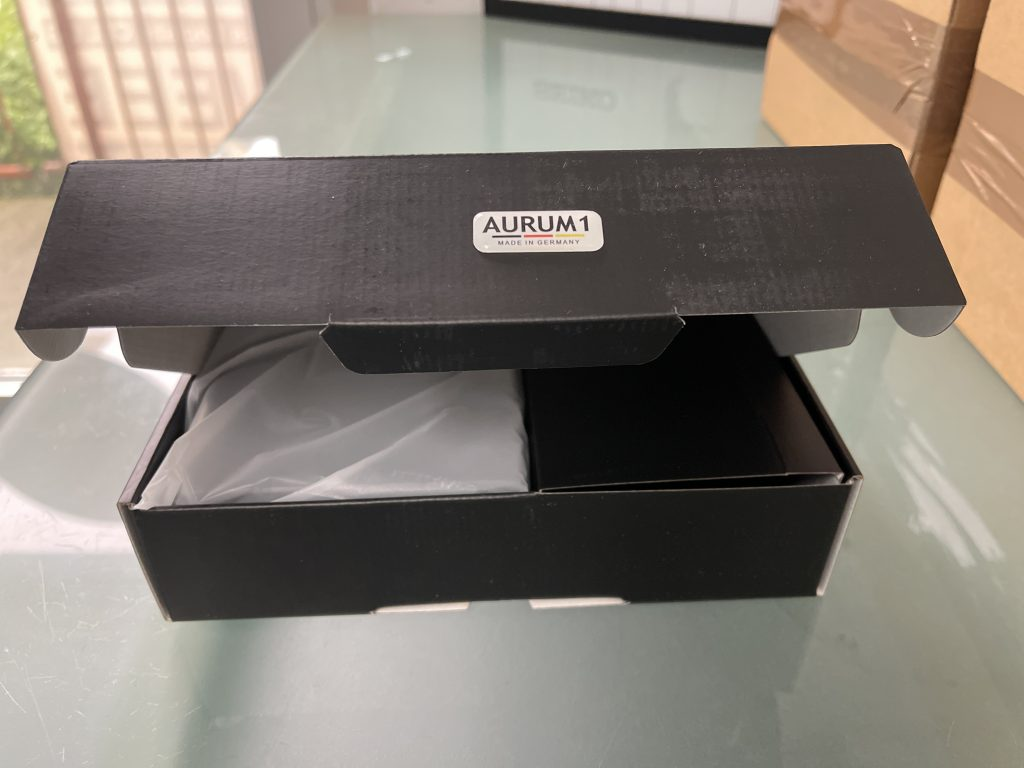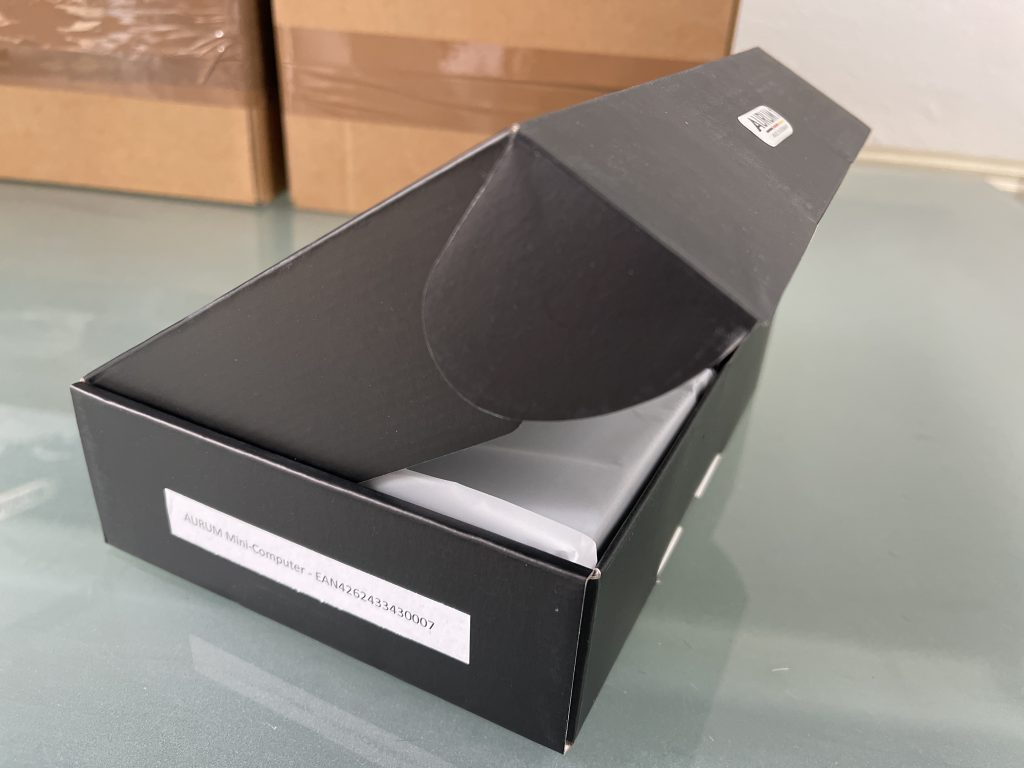 You must of course upload your own photos of your first product that you want to offer under the AURUM brand.
You also need a "Letter from AURUM" as a PDF file, which authorises you to sell AURUM products on Amazon. PLEASE CLICK HERE, enter your company name and email address and request the "Letter from AURUM" for Amazon from us. We will mail it to you as soon as possible.
Then send the form and you will receive the following confirmation page: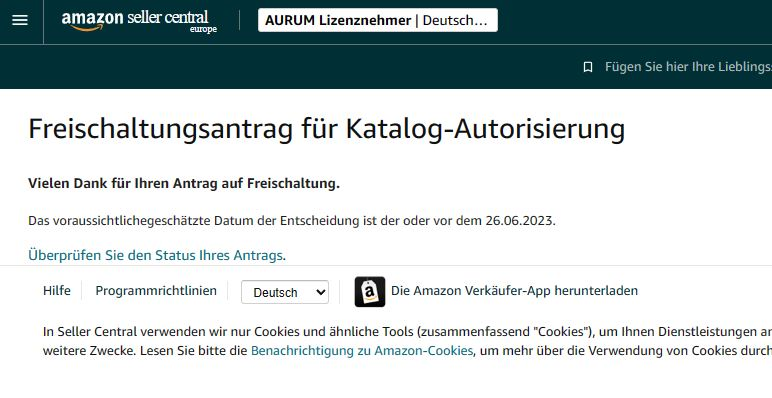 You wait a day or two for the processing and then see in the Amazon "seller central" after a click on the top left on ->Catalogue ->Display activation requests:

In the case of China Express Logistic CEL UG, the approval only took 24 hours, so it was already in the system on 24 June. After clicking on "Create product", however, error 5461 occurred again and again on 25, 26 and initially also on 27 June. Amazon's customer service responded to a corresponding enquiry from China Express Logistic CEL UG with test modules that once again explained the procedure described here. This did not help. Then, on 27 June around noon, the error message disappeared and since then the product has been for sale HERE on Amazon under the AURUM brand.
China Express Logistic CEL UG was able to create the second and every other product in a matter of minutes (after entering the LUCID number, which is also required, but that is another topic), without having to repeat the ordeal described here. Once your activation application for the AURUM brand has been approved, you can offer other electrical products on Amazon without much effort.
Addendum of 10 July 2023:
The presentation of the first AURUM product and the photos of its packaging are a significant hurdle for many retailers. Here are two photos of the AURUM battery for Babayphone that meet all the requirements: